Huey Lewis, lead singer of popular rock band Huey Lewis and the News, has shared some sad news about the band's future. A worsening hearing loss has prevented Lewis from being able to continue the band's 2018 tour.
It was a disappointing spring for tens of thousands of music fans as iconic group Huey Lewis and the News suddenly cancelled their 2018 tour, due to a heartbreaking medical diagnosis for the band's front man.
At just 68 years old, Huey Lewis, known for a slew of '80s pop hits including "Power of Love," was recently diagnosed with Meniere's disease, a disorder of the inner ear that is directly linked to tinnitus and hearing loss.
A Message From Huey to the Fans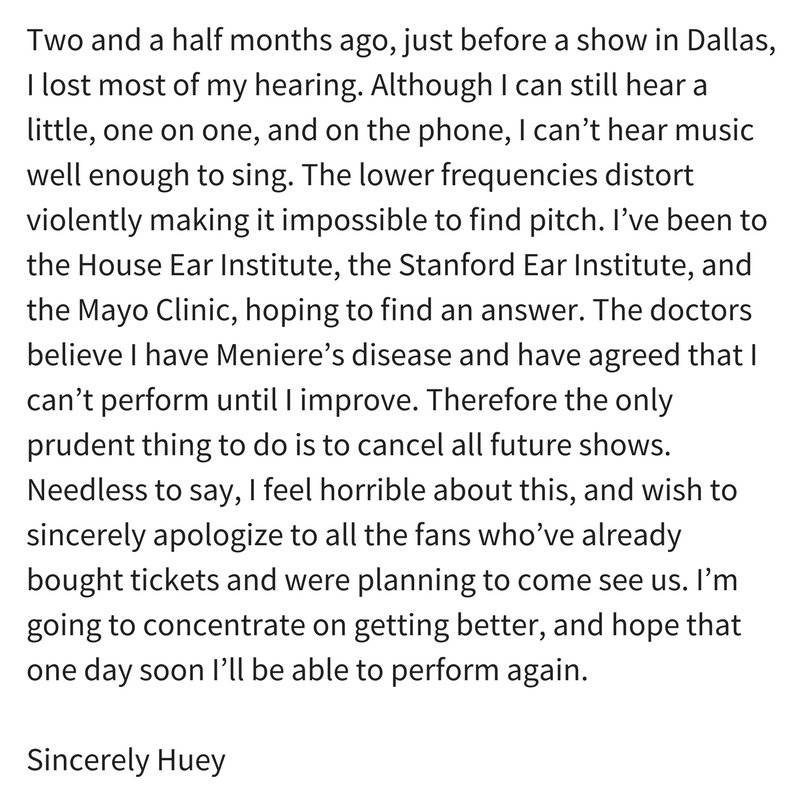 Lewis opened up to fans about his hearing loss on Twitter, noting that it came on suddenly, right before he was set to perform at a concert in Dallas. "I can't hear music well enough to sing," he wrote. "The lower frequencies distort violently, making it impossible to find pitch."
As a result, Lewis and his bandmates were forced to cancel the remaining 40 concerts they had scheduled for 2018 while Lewis sought medical treatment.
A few weeks later, Lewis opened up about his experience with hearing loss on Today, saying,"As I walked to the stage (in Dallas), it sounded like there was a jet engine going on. I knew something was wrong." After consulting doctors at House Ear Institute, Stanford Ear Institute and Mayo Clinic, the singer confirmed his Meniere's disease diagnosis.
"Even though I can hear you, we can talk, I can talk on the phone — I can't sing," he told Jenna Hager Bush on Today. "I can't hear music. I can do everything but what I love to do the most, which is a drag."
The Risks for Musicians with Hearing Loss
Huey Lewis is not the first and won't be the last musician to share their personal experience with hearing loss. According to Mayo Clinic, people with Meniere's disease, "typically have problems hearing low frequencies or combined high and low frequencies with normal hearing in the mid frequencies." They often experience additional symptoms such as vertigo, ringing in the ear (tinnitus) and a difficulty distinguishing between similar-sounding words.
According to Healthline.com, Meniere's disease affects 615,000 people in the United States with 45,000 new cases diagnosed each year. And while there is still no known cure, there are treatment options, including medication, ear injections, hearing aid devices and in some cases, surgery, can help with both vertigo and hearing loss.
Though his professional future remains uncertain, Lewis remains hopeful. "I haven't come to grips with the fact that I may never sing again," he told Today. "I'm still hoping I'm gonna get better. They say a positive attitude is important."
We're here with you Huey. Whether you are able to come back to the stage or not, you will always be a legend within the music community. Hearing aids can be rock n' roll, just ask Brian Johnson.